Someone asked me recently "what do Mormons believe?" My previous blog entry, About Being a Mormon Christian: Facts about Mormons, briefly summarize some of the basic beliefs Mormon's have (e.g. Facts, Faith, Family, Fruits). Click here to read that entry.
For this entry I wanted to briefly summarize a few things I have learned recently about the consequences of these beliefs – how the beliefs of Mormons translate into different actions.
I have always known that, for the most part, Mormon beliefs seem to produce pretty happy, normal people…

Last weekend, however, I thought about things in a new way as I attended the semi-annual general conference of the
Mormon church (which is really called The Church of Jesus Christ of Latter-day Saints – "Mormon" is just a nick-name). It is an interesting event where the leaders of the Mormon Church give messages they feel are most pressing topics to address for the 6 months until the next conference. This conference was especially memorable as there was a new president and new first presidency called and sustained
(one of whom is a retired Luftansa pilot from Germany). Over 100,000 people attended at the 5 different sessions at the conference center in Salt Lake City, and the meetings are also broadcast via satellite all over the world in almost 80 languages.
In one of the addresses at conference, Bishop David H. Burton was speaking
about the story of the good Samaritan in the Bible and asked, in todays world – who is my neighbor? He then shared some statistics about the humanitarian efforts of the Church that I think even most members of the Mormon church didn't
know.
In 2007, the Church responded with support and supplies to those affected by:
major earthquakes in 5 countries,
massive fires in 6 countries,
hunger and famine in 18 countries,
and flooding and severe storms in 34 countries.
For example, when the firestorms in southern California destroyed 1,500 homes and forced over a million people to evacuate, the Mormon Church responded quickly by providing cleaning kits, blankets, hygiene kits, and food. Over 5,000 Mormon volunteers along with missionaries cleaned, cooked, comforted, and cared for those affected.
Additionally The Church of Jesus Christ of Latter-day Saints has sponsored:
For example, over 54,000 Church members volunteered to help, working with the World Health Organization, to eliminate measles (a killer of almost a million children each year). A Church member in Nigeria wrote: "I called
our labor the 'rescue of the innocent.' We went house-to-house and village hall to village hall. A woman told us she had lost three children to measles. She told her story with such grace and passion that there was not a dry eye in the house, mine included." Our volunteer observed, "The things you do for yourself are gone when you are gone, but the things that you do for others remain as your legacy." And especially the legacy of your faith in something greater than you.
As another example, the Church is still in their fourth-year of helping those devastated by a tsunami in Indonesia and southern Asia. Funding was provided to help build 902 homes, with 3 community centers, 24 village water systems, 15 schools, and 3 medical centers. In Ethiopia, the Church drilled wells and constructed storage tanks for helping give access to clean water. Communities organized a water committee and dug the trenches needed to pipe the water from the storage tanks to each village. In some cases this was a distance of over 3 miles (5 km).
In total The Church of Jesus Christ of Latter-day Saints and its members responded to 170 major events—nearly one every two days for the entire year. Bishop Burton said, "It was a busy year with many opportunities to serve."
Another story I found interesting was shared by Elder Henry Eyring. He was in the office of President Hinckley, then president of the
Church, when President Hinckley was asked to take a phone call. He said there was a brief phone conversation and then they returned to their conversation. But President Hinckley took a moment to explain. He said that the call was from the president of the United States, who was flying over Utah in Air Force One on his way to Washington. The president of the United States had called to thank President Hinckley for what Church members had done in the aftermath of a hurricane. The president of the United States had said that it was a miracle that the Mormon Church was able to get so many people, so quickly, working together so well. He praised the Mormon church by saying that they knew how to do things.
The way in which the Church is prepared to help people in need is impressive to most people but, more important than any praise from a leader or dignitary, it is most important to those who are in need and to those who are blessed to be able to be the ones helping.
And one thing that I think impressed me the most was that all of it is done with no strings attached.
There is not even any proselyting attached to any humanitarian effort, and often the Church will provide the resources – but work through a local organization to make sure that impact is put before worrying about who gets credit. There is a big emphasis on making sure service and aid is given at the right times of need, but also given with the right motivation (not for any praise, but simply out of love).
Something equally interesting to me was attending a conference
the day following conference hosted by the LDS International Society. I quickly became aware that it was not just the central Church organization doing
things to make this world a better place, but many ordinary members take upon themselves to start NGOs or join humanitarian efforts which really have made a difference for millions and millions of people around the world. For example, this picture is of Nobel Peace Prize Laureate Muhammad Yunus (left) with Warner Woodworth. The Bangladesh-based pioneer of micro-credit finance calls young Latter-day Saint volunteers the 'Mormon Peace Corps'. I would share more examples of ordinary members who have made a big difference, but fear this blog entry is getting too long already. Perhaps I will add a few of them as a comment later.
So why? Why does the Church and so many of its members do all of this?
One reason might be because of how Joseph Smith articulated what it
means to be a Christian. He taught that "love is one of the chief characteristics of Diety, and ought to be manifested by those who aspire to be the sons of God. A man filled with the love of God, is not content with blessing his family alone, but ranges through the whole world, anxious to bless the whole human race" (Teachings of the Prophet Joseph Smith, p. 174).
On another occasion Joseph Smith said something else I liked, "I love that man better who swears a stream as long as my arm, yet deals justice to his neighbors and mercifully deals his substance to the poor, than the smooth-faced hypocrite. I do not want you to think that I'm very righteous… There was one good man, and his name was Jesus" (Documentary History of the Church, 5:401). [For more Joseph Smith quotes, click here.]
So what do Mormons believe? In short, they believe in trying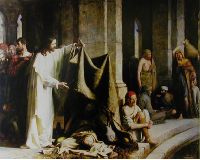 their best to be more like Jesus – to be better Christians. I think everyone sees their own imperfections, but if people are really trying to live like Jesus taught (which is no easy task), then that desire provides limitless opportunities for imperfect people to see how they are needed in helping to make the world a better place.